Invisalign Provider in Chandler, Gilbert, and Phoenix, AZ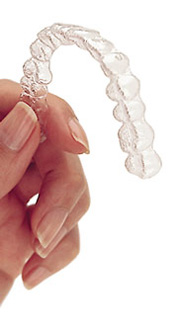 Certified Invisalign Providers in Chandler, Gilbert, and Phoenix
Consider Invisalign treatment to get the beautiful straight teeth you've always wanted — without braces. A complimentary consultation at Sonoran Smile Orthodontics can determine if Invisalign clear aligners are right for you.
As Invisalign Premier Preferred Providers, Drs. Asgari and Vu are very experienced with Invisalign. They've been creating beautiful smiles with Invisalign in Chandler, Gilbert, and Phoenix for more than 16 years!
What is it?
Invisalign treatment uses a series of virtually invisible, removable, and comfortable aligners that allow you to smile more during treatment as well as after. Invisalign clear aligners are made with 3D computer imaging technology and has been proven effective. More than 70% of orthodontists in the US and Canada are certified to administer Invisalign treatment.
Why would I want it?
Not only are the aligners virtually invisible, they are removable, so you can eat and drink what you want while in treatment. Plus, brushing and flossing are no problem. They are also more comfortable than traditional braces, with no metal or wires, which also usually means you spend less time in Dr. Asgari and Dr. Vu's office getting adjustments. Invisalign treatment also allows you to view your own virtual treatment plan when you start so you can see how your straight teeth will look when your treatment is complete. This 3D scan eliminates the need for gooey impressions and is more accurate for better diagnostics. You can also get your Invisalign trays much faster!
How does it work?
You wear each set of aligners for about two weeks, removing them only to eat, drink, brush, and floss. As you replace each aligner with the next in the series, your teeth will move — little by little, week by week — until they have straightened to their final positions. You'll visit the friendly team at Sonoran Smile Orthodontics about once every six to eight weeks to ensure that your treatment is progressing as planned. Total treatment time averages nine to 15 months and the average number of aligners worn during treatment is between 18 and 30, but both will vary from case to case.
Keeping Your Smile Straight
Drs. Asgari and Vu recommend permanent, bonded retainers at the conclusion of your orthodontic treatment to ensure that your teeth do not move. Bonded retainers are small, very skinny wires which are bonded behind the front six teeth. Our patients love permanent bonded retainers, because they worry less about keeping up with a removable retainer and their teeth stay straight!
Getting Started with Invisalign
During your orthodontic consultation, we'll take photos and X-rays and do a thorough exam to find out if you are a good candidate for Invisalign. We'll also discuss what you'd like to see changed with orthodontic treatment using Invisalign so we can have a better understanding of your expectations and help you achieve all your smile goals.
For more information on Invisalign, contact our office in Chandler, Gilbert, or Phoenix, AZ!
For more information on Invisalign, you can visit the Invisalign website.