We recognize that all of our patients are unique and deserve to receive orthodontic care that reflects their individual needs. Our experienced and talented team is committed to working with you and your family to create a comfortable, stress-free, and rewarding orthodontic experience every time you visit our practice.
We are pleased to welcome you and your family, and we look forward to working with you.
---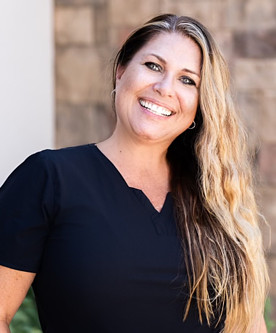 Jen
Meet Jen! She is an integral part of our team. She says she coined the phrase, "I put the Jen in Gentle." She has been working in the orthodontic field since 1992 and has loved every minute of it. She is quick to smile and make everyone around smile too and that is why we love her.
She is also known as the Jen of all trades; for fun and fitness, she teaches Zumba and Hip Hop at local gyms. Jen married her high school sweetheart 24 years ago and has four amazing kids and two fur babies. In her few seconds of spare time, she loves to read, watch movies, and spend time with all the people she loves.
---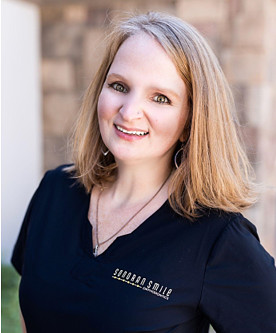 Liz
Meet Liz, a rockstar of our team since 2016. Liz graduated from The American Institute of Dental Assisting in January 2011.
In her spare time, she enjoys being outdoors, hiking, kayaking and camping. Liz also likes to craft. Her new favorite thing is to travel to every state and visit all the countries in the world. The most important things to her are her family and friends. Liz has a great gift of bringing smiles to everyone she meets her laughter is so contagious you always leave the office in a great mood.
---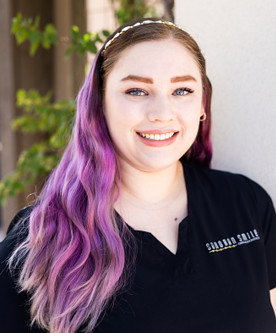 McKenna
Meet McKenna! McKenna has been obsessed with braces since she was little and after she started wearing braces when she was 15, she knew orthodontics was the place for her! McKenna is aspiring to be an orthodontist one day. She absolutely loves helping others feel confident with their smiles!
McKenna has lived in Arizona almost her whole life and loves it! She is marrying the love of her life, Liam, in November! On her off time, if she's not wedding planning, she loves spending time with her family and friends, planning the food for church events, going to the temple and watching funny movies.
---
Marci
Meet Marci! She completed dental assisting school in 2018, and loves working in orthodontics. She enjoys seeing patients faces when they can see an improvement in their treatment. Marci was born in Washington, grew up in California, and moved to Chandler in 2007. She is married to a pilot and they have two beautiful girls. Marci enjoys hanging out with her family and taking road trips. In her free time, she likes to bake with her daughters, and go on dates with her hubby.
---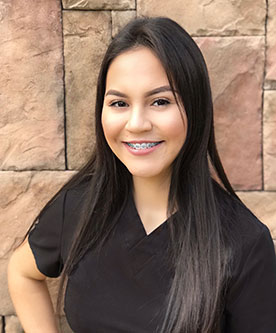 Rosa
Meet Rosa, a member of our staff since January 2019 but has been in the field for two years! Rosa graduated from EVIT attaining her dental assisting certificate, while finishing her senior year in high school. Her favorite part about working in ortho is being able to give patients confidence in their smiles!
Rosa has lived in Arizona almost all her life. She is a mom to her fur baby, Chloe. They enjoy staying home and watching movies. Rosa also enjoys spending time with her family as she just became a new aunt.
---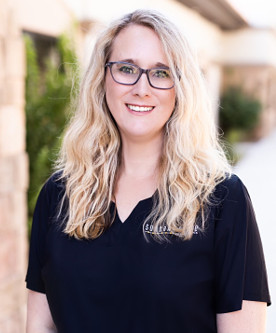 Shala
Shala was born and raised in Idaho. She met and married her husband in Las Vegas, and moved to Gilbert and resided there for over 17 years. She has 2 kids, her daughter is a Senior in high school, her son is a Freshman. She enjoys spending time with her family doing the things they love, like traveling and going to the beach. She has always been fascinated with the Orthodontic arts and loves seeing our patients walk out of our office with a BIG BEAUTIFUL SMILE.
---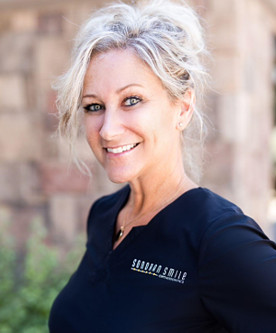 Candace
Candace has been an orthodontist assistant for 10 years, then took 9 years off to raise her little ones, and has been back for 8 years now. She loves working with the Sonoran Smile doctors and helping kids and adults achieve gorgeous smiles. The transformation never gets old and she loves seeing how happy and amazed the patients and family members get.
Candace lives in Chandler with her husband of 21 years and has 2 beautiful daughters that keep her feeling young. She has a Pug named Pepper and a Goldendoodle named Wrigley.
Her favorite things to do are snowboard, paddle board, boat, ride roller coasters and water slides, watch sunsets, laugh and make people smile.
---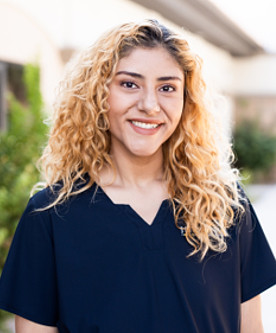 Deanna
Deanna is new to orthodontics, but she immediately enjoyed seeing the happiness in patients learning to love their smile every day. She was born and raised in Arizona but spent some time in Salt Lake City growing up with her 3 siblings. She loves to spend quality time with family and hopes to start her own soon someday. She loves to play and goof off with her two huskies Wolf and Mia, and loves taking care of her nephews Jacob and Kuiper, the pup.
Her interests include cooking and baking, caring for animals, spending time outdoors and in nature, and she loves watching a good movie at the theaters.
---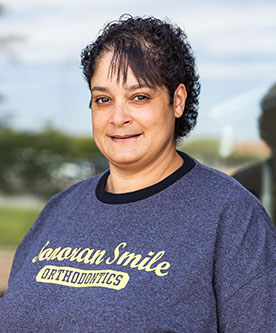 Leslie
Leslie recently moved to Arizona, originally from the midwest. She brings 30 years of orthodontic experience. Leslie's favorite part of her job is the relationships she makes and the beautiful smile they create. She enjoys being outside, traveling, and being a grandma.
---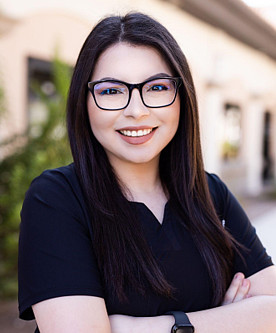 Ruthy
I have been working in orthodontics since 2014. I love to see the transformation in people's self-esteem once they have completed their treatment. I love interacting and creating friendships with our patients. I feel that it's important for them to look forward to their appointments. I have lived in Arizona my whole life. I love spending time with my daughter Emmy and my husband Diego. I have a Goldendoodle named Ollie. And we are obsessed with Disney! Disney fanatics!
---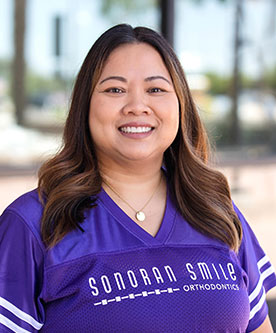 Song
Hello, My name is Song. I am the newest member of the team with over 20 years of experience in the dental field. The best part of working in the dental field is getting to know our patients who live in the surrounding communities. I look forward to meeting you.
When I am not in the office, I love spending time with my husband Dave, and our two dogs, Max and Tyrion. I enjoy traveling to new places, decorating my home, doing crafts, and seeing my family.
---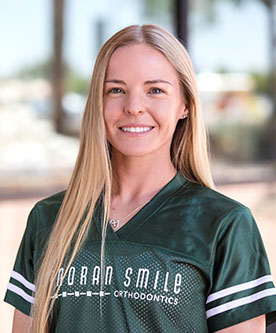 Sam
I was always interested in the science behind orthodontics, and have enjoyed learning more about it over the past three years. The ability to manipulate skeletal anatomy is fascinating to me, and it brings me joy to observe how orthodontic transformation boosts confidence, and changes lives.
Outside of work, my passions are animals, motocross, health, nature, art, education, and my family.
---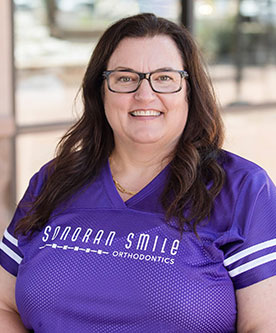 Kristin
Kristin has lived in Arizona for most of her life. She called Chandler home for 20 years and then moved to San Tan Valley where she resides with her family.
She and her husband have two children and two adorable grandchildren. They have a dog named Cali and a cat named Joey. She and her husband love to travel, go to baseball games and watch movies.
Kristin has been in healthcare for five years but is new to the orthodontic field. She has been with Sonoran smile orthodontics since November as a scheduling coordinator. Her favorite part of the job is helping patients and getting to know them and their families.
---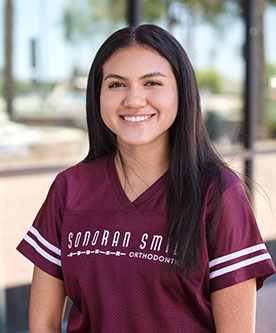 Mia
Well, I recently started my career in the orthodontics field and I absolutely love it. My favorite thing about my job is seeing how I can contribute to a patient's happy smile. I plan to finish my associate's degree this year and considering pursuing a bachelor's degree. I come from a big loving family and I'm one of four.
---
Amara
Hi, my name is Amara, born and raised in Arizona! I've been working in orthodontics since 2020 and I love every smile that I get to help look beautiful. When I'm not working I enjoy playing volleyball with my friends and spending time with my dog Nova.
---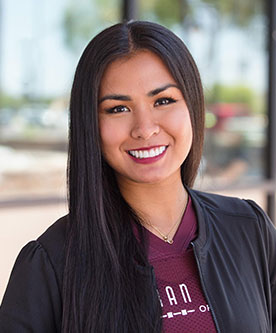 Rosette
Rosette has been in the orthodontic field since 2008. She loves working in the clinic with a great team. She finds it very rewarding meeting patients and seeing their transformation to having a great smile from start to finish.
Rosette was born and raised in The Philippines. Her native languages are Tagalog and Ilonggo. She loves spending time with her family, singing, dancing, drawing, and flowcharts.
---